Solutions
Hot Product
Contact Us
Technology of Pipe Belt Conveyor
Process Introduction



As a new type of belt conveyor, pipe belt conveyor has been put into commercial operation only around 20 years, but for its some unique performances, it has achieved great success on some special occasions. Pipe belt conveyor is an environmental friendly product, since introduced to China in 1995, it has been widely used in all walks of life. In recent years, through technology introduction, 100% of the complete equipment can be manufactuered in China.






Serena Fu




Kira Zhang




Lolita Liao




Email:




serena.fu@hot-mining.com




kira.zhang@hot-mining.com




lolita.liao@hot-mining.co

m


Skype:




serena20140924




kira.zhangjing




lolita.liao918



Application
Pipe belt conveyor can be curved in the vertical direction, as well as in the horizontal direction, and it has small bending radius. Pipe belt conveyors save space thanks to their compact design , including steep conveyor angles up to 30°,very suitable for complex layout requirements.



Process Description
Pipe belt conveyor's head, tail, loading and unloading part have the same structures with the ordinary ones. The main differences are: after the loading zone of conveyor's tail, the belt has a gradual shape transition, from flat to trough and trough to deep trough, then material is wrapped into a pipe; in material forming zone, the belt is forced into pipe shape by rollers which have a hexagon layout, material sealed in the pipe is in stable operation with the belt. When it reaches the head, the belt has a gradual shape transition, from round tube to deep trough and deep trough to trough, then discharge material in the end. The belt's return period is the same with its operation period .Pipe belt conveyor conveys material in a pipe, material is wrapped in the pipe to be delivered in a hermetic way, no pollution to the environment.It is because of this feature, the conveyor is adapt to the complex terrain, able to have any turning arrangement in three dimensional space, so fewer the conveyors can replace many ordinary ones, to reduce material's retransfer, and damage rate of the material. With the reduction of belt conveyor, conveying system's accident spot is reduced, the safety of operation is further improved, and project's economic benefits will increase. Pipe belt conveyors are all made of steel-frame structure. Its frame and rack are integral structure. For single way conveyor, the middle part is for the equipment rack, and two sides of it are staff walkway. Due to conveyor's compact structure, and it does not need large seal shield, only covers a small area of space, the power supply, control and maintenance personnel can be greatly reduced. Pipe belt conveyors are all factory production, easy for on-site installation, which is not affected by season, and decrease construction period. Pipe conveyor's transmission technology is very mature and reliable, its equipment have been applied to a large number of engineering, it has the incomparable advantage to other handling equipment.



Case
One of HOT mining project is located in sanming city, fujian province.It is a cokemaking coal handling project. Due to the complex terrain, much of the bend, path to the ups and downs, so it is suitable for choose pipe conveying system. Specific productivity for 260 t/h, the largest particle size is 160 mm, if according to productivity, chosen pipe diameter 250mm, but apparently 250mm diameter can't achieve the requirements of conveying material particle size is 160mm.Refer to the table as below.



Tab: Relationship between tubular diameter and feeding volume as well as granularity of material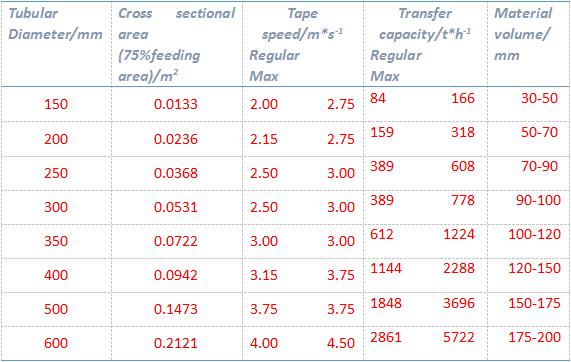 So it is supposed to choose the 500mm pipe conveying system, but choose this diameter the productivity will exceed in 1848 t/h, far more than practical transfer capacity, result in waste. Generally the standard is the largest particle size should be 1/3 of the pipe diameter, but the case of material particle size and distribution in a certain, Can also conveying the larger materials, just need to reduce the loading rate. In combination with this project, the largest particle size is 160 mm and accounted for 6%-8% of the total materials, productivity for 260 t/h, HOT mining's engineers comprehensively consider to choose 400 mm, loading rate is 0.4, tape speed is 2.5 m/s.