Solutions
Hot Product
Contact Us
Copper Ore Beneficiation Technology
In modern industry and daily life, copper has a wide range of application and demand. It has an important and irreplaceable position in electric, marine, aviation, communication, petrochemicals, household appliances, high-energy physics, metallurgy, etc.
Types of copper ore: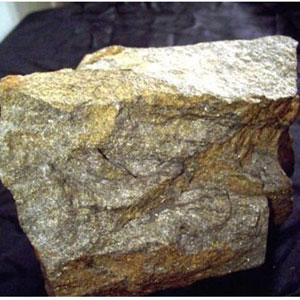 Composition of cooper ore is very complex, including chalcocite, chalcopyrite, azurite, tetrahedrite, malachite, etc. Different beneficiation process is designed according to different ore. Even if the same type of ore in different mining plant, the beneficiation process is also different. According to the properties of different ore, we will choose suitable beneficiation process.
Two common copper ore flotation process:
1. dye-shaped copper ore flotation process
Generally use relatively simple process, after a period of grinding, fineness -200 mesh occupy about 50% to 70%, once roughing, two or three times selected, one or two times scavenging. Such as disseminated copper minerals has relatively small size, consider to adopt the stage grinding and separation processes. Processing bornite concentrator, mostly coarse concentrate regrinding - a selection of stage grinding and separation processes, and its essence is mixed - flotation process. First by a coarse grinding, roughing, scavenging, and then rough concentrate regrinding recleaner get high-grade copper concentrate and concentrate. Rough grinding -200 mesh about 45% to 50% and then pulverized -200 mesh occupy about 90% to 95%.
2. Dense copper ore flotation process
Dense copper ore chalcopyrite and pyrite as tight symbiosis, pyrite is often secondary copper-activated pyrite content is high, difficult to suppress, sorting difficult. Sorting process requires both get copper concentrate and concentrate. Typically election of copper tailings is pyrite concentrate. Dense copper ore processing, often using two stages of grinding or grinding, fine grinding fineness requirements.
Copper ore dressing equipment Scope:
Weakly magnetic minerals beneficiation, for example: hematite, limonite, ilmenite, wolframite, tantalum, niobium, etc.. Non-metallic minerals deironing, purification, for example: quartz, feldspar, nepheline, fluorite, sillimanite, spodumene, kaolin.
Copper Ore Beneficiation working process: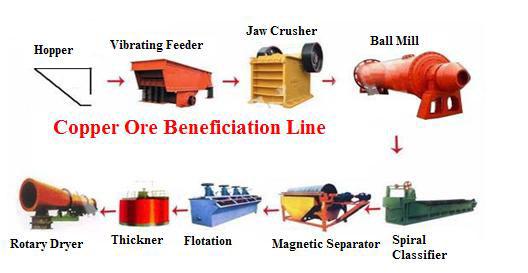 Mining ores first by the jaw crusher for preliminary broken, in broken to a reasonable fineness through ascension machine, after to mine machine uniform into ball mill, ball mill by crushing, grinding of ore.
After grinding ball mill of ore materials into the next procedure and: grading. Hierachial machine with different proportion of solid particles in the liquid and the speed of the precipitation different principle of minerals, the mixture to wash, grading. After a wash and classification of the mineral mixture after magnetic separation unit.
Because of various minerals than magnetized coefficient of different magnetic force and, by mechanical force will mixture of magnetic material separated. After magnetic separators preliminary after the separation in mineral grains was sent into the flotation machine, according to different mineral properties of different drugs, make to the minerals and other material separation open.
Copper Ore Beneficiation Flowchat:
Copper Ore Beneficiation Equipment include vibrating feeder, jaw crusher, ball mill, spiral classifier, magnetic separator, flotation machine, thickner, rotary dryer,etc.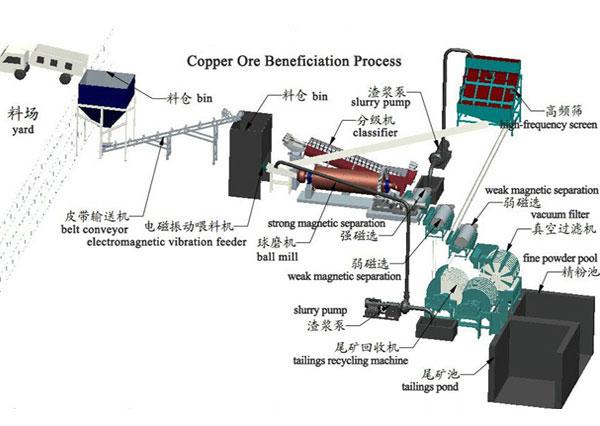 Contact us:
| | | | |
| --- | --- | --- | --- |
| | Serena Fu | Kira Zhang | Teresa Zheng |
| E-mail | serena.fu@hot-mining.com | kira.zhang@hot-mining.com | teresa.zheng@hot-mining.com |
| Skype | Serena20140924 | kira.zhangjing | teresa.zheng123 |