Case Studies
Hot Product
Contact Us
4 Methods to Improve the Grade of TBS Fine Coal and Get Good Economic Benefit
The traditional separation technique of coking coal is, 50.0-0.5mm heavy dense medium cyclone processing, 0.5-0mm fine particle flotation, the mature separation technology based on coarse coal heavy dense medium process and slurry flotation has been formed.
As the developing capacity of coal washing plant, the requirement for capacity of heavy dense medium cyclone is higher and higher, the development trend of heavy dense medium cyclone is large-scale. Due to the increase of effective separation lower limit of grand diameter cyclone and decrease of feeding particle size of microbubble flotation column, the coarse coal slime(1.0-0.3mm) has become the dead zone of coal washing technology. To adapt the change of coal property, coal washing technology has improved and developed in recent years. As the popularization and application of TBS coarse coal slime separator, the technology has been formed as the following picture:

The flotation technology of coarse coal slime heavy dense medium is mature, while coarse slime separation technology is relatively weak. So, coarse slime separation work is the crucial point of increasing fine coal productivity and improving coal company economic benefit.
1.

Analysis about TBS cleaned coal ash higher
TBS coarse slime sorting machine is the most common machine in Chinese coal preparation industry including Zhuang shuanglou coal preparation plant, Ji Er coal preparation plant, Pan Nan corporation and Liang Bai coal preparation plant, and sorting result is satisfactory.
Taking example by the experience of above-mentioned company, Centre coal preparation plant used two Φ3000mm TBS coarse slime sorting machines in first-stage project. But they didn't get a desired result, concentrate ash content is higher. Because TBS sorting machine is based on interfering terminal velocity for delamination. Within a certain particle size, it is easy to sort low density of fine particle and high density coarse particle. And it is hard to sort high density of fine particle and low density of coarse particle.
The following form is the result of Concentrate small screening test.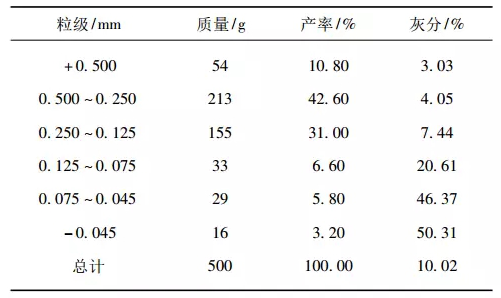 By above knowable, TBS Concentrate ash degree is 10.02%. +0.075mm material accumulated ash degree is just 6.28%,but -0.075mm material accumulated ash degree is 47.77%. This part of the fine particle materials account for 9% of the concentrate. Most direct and effective way to improve the concentrate grade is to reduce the concentration of -0.075 mm high content of gray matter.
2.Measures to improve the grade of TBS concentrate
There is some adjustment to coarse slime separation system in order to improve the grade of concentrate and realize blending of TBS concentrate to clean coal.
2.1. Reducing pipe diameter of recoil water
In order to meet the required conditions of coarse slime separation, make the materials to maintain the necessary continuous turbulence state in the tank, reducing pipe diameter of recoil water to improve pressure of recoil water. The water supply pressure is maintained at 70kPa and keep it stable. At this pressure it can provide some ascending fluid velocity, it will make high density material settled in the ascending fluid while low density material floated to realize the separation by density and particle size. It will lower the frequency of Ad≥11% of special coal sample by adjustment.
The change of pipe diameter is shown as follows:

2.2 Grading cyclone bottom drain port adjustment
Adjust Φ500mm Grading cyclone bottom drain port from 100mm to 90mm in diameter. After adjustment, TBS coarse coal slime separator into the material grade 0.125 mm granular material mass fraction was reduced by 3% - 4%, Then reduced the TBS concentrate high ash content of fine clay materials, reduced the ash content of TBS concentrate.
2.3 Centrifugal liquid process piping transformation
As a result of the centrifuge (mesh 0.4 mm) centrifugal fluid contains a large number of fine grain material, ash content is higher, at 22%. There is a big gap with concentrate 8% ash content requirements. It has a serious pollution of production quality. Transfer the original barrel to concentrate centrifugal liquid discharged to the TBS tailings slime centrifuge. Blend it into the coal products after dehydration treatment. Fundamentally solved the centrifugal liquid high ash of fine clay material in concentrate system build-up of pollution problems, improved the TBS concentrate grade.
The following form is TBS concentrate screening test results after change.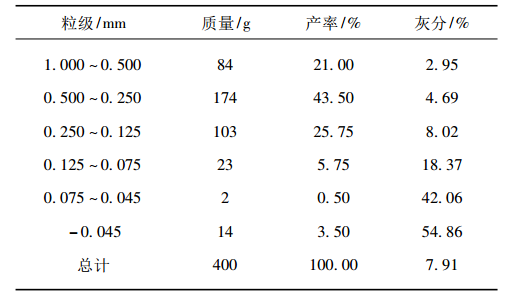 Through the data contrast can be seen that the changed to 0.075 mm material decreased by 55.56%, and the concentrate ash content reached 7.91%, reduced by 21.06% compared with the previous.
2.4 Selection of slurry centrifuge basket sieve pore
The content of high ash of fine slime in slurry is high when the the content of coal gangue is up to 40%. Because the -0.045mm fine particles can not be separated by classifying hydrocyclone, and TBS is also not good for fine particle coal slurry separation, so the high ash of fine slime will float to clean coal with TBS over flow. This will make the ash content of product different. Coal washing plant will solve this problem by the following desliming measures: In general the slurry centrifuge basket pore is 0.4mm, when processing the 1/3 coking coal which with high gangue content, the bask pore should be 0.6mm. In this way, it can increase the rate of fine slime through screen. Finally this part of fine slime will be separated by centrifuge force and the ash content in product is reduced.
Here is the screening test results of TBS throughing 0.4mm basket pore as below: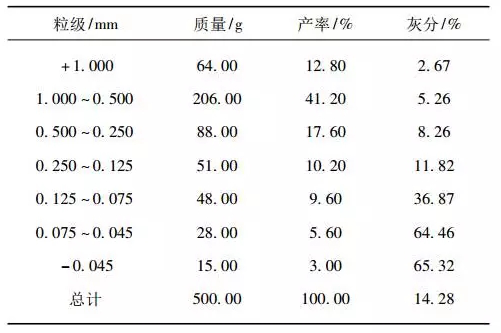 The screening test results of TBS throughing 0.6mm basket pore as below: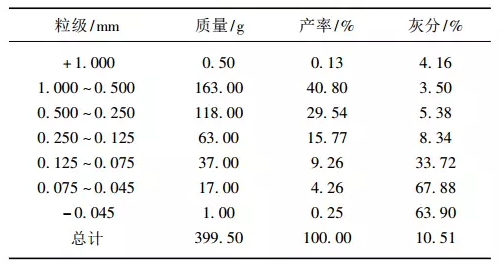 Through the comparison of the data found that the replacement of 0.6mm sieve, concentrate the yield of -0.075mm decreased from 8.60% to 4.51%, reduced by 47.56%, ash from 14.28% to 10.51%, reduced by 26.40%.
3.Application effect
After through reform of the above the process of coarse coal slime separation system and equipment found concentrate product average ash decreased from 10.02% to 7.91%, TBS concentrate from the part of the mix, implements all blended to clean coal, The clean coal yield increased from 47.62% to 49.53%, clean coal yield increased by 4.01%, Every day producing more clean coal 286.5t, according to current gas-fat coal coal market value, every day can increase the income of 180,500, annually for the enterprise to increase economic benefit 64.98 million Yuan.
4.Conclusion
Currently, large diameter cyclone with independent intellectual property rights (maximum diameter: 1.5M) and flotation column with a higher selectivity both are applied in coal preparation industry of China.With the gradual upgrading of coal preparation equipment,the technology of large particle materials gravity separation,fine coal slime flotation and coarse coal slime separation have been scaled greatly.So do a good job in the coarse coal slime separation are effective ways to improve economic benefit of coal preparation enterprises.The aboves are a exploration and transformation for coarse slime system and a good effect of ash reduction for TBS concentrate product.Although the TBS separator is applied in coarse slime separation,but the sorting accuracy is low,probably will lead to a large deviation.So studying on a new type of Coarse Slime Separator is the bounden duty of coal preparation workers.
HOT introduction
HOT Mining is a national high-tech enterprise, is committed to providing the world's leading mining and mineral processing integration solutions.Scope of services include coal, iron ore, copper, gold, lead and zinc ore and other industrial minerals, from mining to clean processing of "one-stop" service,including from the beginning of the assessment of resources, to the project financing, engineering design,complete sets of supply,engineering procurement construction to production hosting operation services services after the completion of the mine.

HOT service footprint throughout the world's major mining countries, HOT has been in Australia, India, Iran, Pakistan, Chile, Zambia, North Sultan, Guatemala and well-known local service providers to set up offices or sales and service team.
Address: Room B910, Beijing INN, ChaoyangMennei Street, Beijing

Website: www.miningmes.com/

E-mail: elvis.dai@hot-mining.com Whatsapp:+86 13678030179

Linkedin: http://www.linkedin.com/company/hot-mining-technology
Comment From Swadhin Saurabh:
Swadhin Saurabh I think that the four (4) most important factors that can improve the TBS performance are:
1. The top to bottom size fraction of the feed solid should be around 4:1. This ratio should not be more than 8:1. To ensure that the top and the bottom sizes of particles are precisely controlled, we should focus on classification of fine coal in classifying cyclones on the basis on D90 or D95 and NOT D50.
2. The maximum and minimum size of the particles that can be effectively separated in such gravity separation equipment is defined. One should not feed these equipment with size fractions beyond the limit s defined by the manufacturers.
3. It is a continuous flow equipment. So the volumetric flow rate to the TBS should be controlled precisely to obtain the optimum result.
4. TBS also has limitations (both max and min) on the feed % solids (w/w). So, the feed % solids should also be controlled precisely.

If we follow these four (4) things while running TBS or even Reflux Classifiers, we should be able to get optimum performance out of these machines.
http://www.linkedin.com/in/swadhin-saurabh


Contact us:
| | | |
| --- | --- | --- |
| | Serena Fu | Kira Zhang |
| E-mail | serena.fu@hot-mining.com | kira.zhang@hot-mining.com |
| Skype | Serena20140924 | kira.zhangjing |
Please feel free to give your inquiry in the form below.We will reply you in 24 hours.