Solutions
Hot Product
Contact Us
Iron Ore
Introduction:
Ore, which contains an economical use of iron, is called an iron ore. There are many types of iron ore, magnetite (Fe3O4), hematite (Fe2O3) and (FeCO3), etc, which are mainly used for iron making. Iron ore is an important raw material for iron and steel production enterprises. After crushing, grinding, magnetic separation, gravity concentration etc, gradually we can get iron from natural minerals (iron ore). It is the mineral aggregates that contain iron or iron compounds which can be used economically.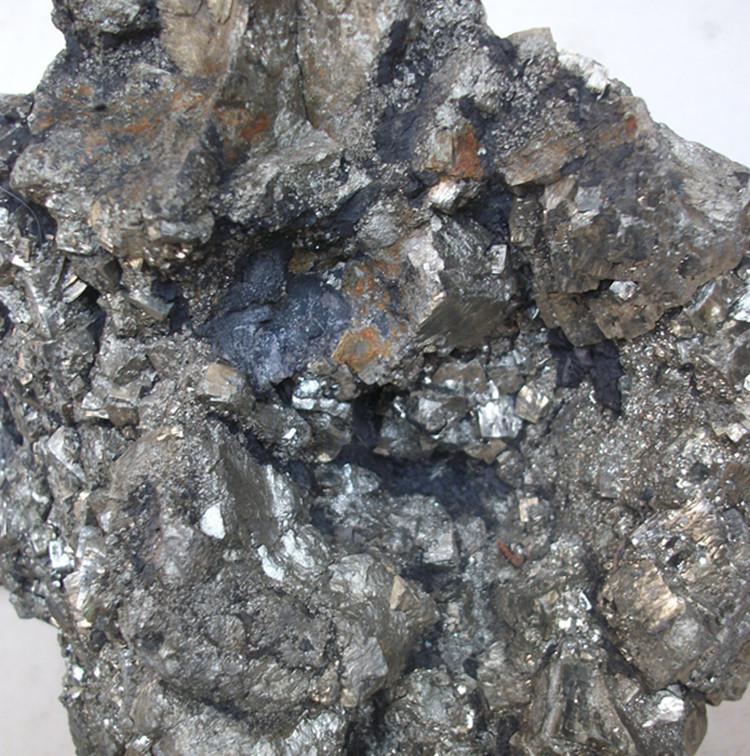 Production Process of Iron Ore
Generally, the processing of iron ore needs several processing stages, including crushing, grinding, ore beneficiation, concentrating, drying, etc. The equipments for iron ore beneficiation is consisted of Jaw Crusher, Ball Mill,Classifier, Magnetic Separator, Flotation Machine, Concentrator Machine and Dryer. And Equipped with Feeder, Elevator and Conveyor, a full set of Beneficiation Production Line can be made. It has advantages such as High efficiency, Low Consumption, High Output and economical and reasonable, etc.

We can not only provide single equipment,such as jaw crusher, cone crusher, ball mill, but also can provide full production line,such as iron ore production line, ore beneficiation production line, etc.



Iron Ore Beneficiation flow
According to different extent form, classification of iron ore have hematite, limonite, magnetite, siderite, etc. According to different iron ore types, iron ore beneficiation processes mainly refer to magnetic separation, flotation separation, gravity separation and magnetization-magnetic separation.



Magnetic separation and equipment
Magnetic separation is using magnetic field to separate materials with different magnetic intensity. Magnetic separation is the most popular method used to beneficiate black metal ore. There are two kind of magnetic separation, normal and high density. Normal magnetic separation is adopted to separate magnetite. High density magnetic separation is used to separate hematite and other ore which is weak magnetic.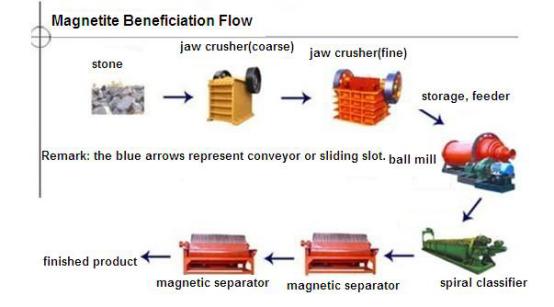 Flotation process and equipment
Flotation process is also commonly seen in nowadays iron ore beneficiation. It has become a very important way to recover weak magnetic ore. It is also used to treat iron ore fine to reduce the content of silica and impurities.




Flotation beneficiation separates ore by different physical and chemical properties of different materials. During the process, we always use chemicals to get better beneficiation results.




Flotation beneficiation separate ore at three physical statuses: gas-liquid-solid. The ore slurry enters the mixing bucket first. After the slurry is mixed thoroughly with chemicals, it is sent into the flotation machine. With water and gas fed into the flotation machine, along with the slurry, there will be bubbles generated. The bubbles take the parts which is valuable to us out of the slurry. And the rest is tailing.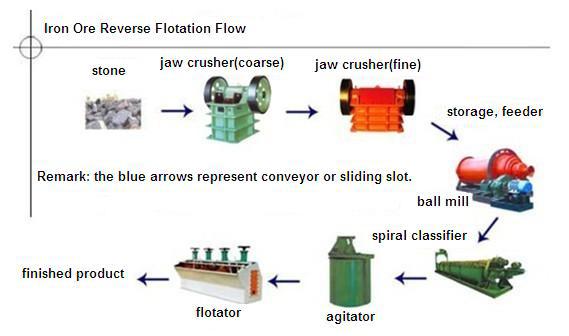 Gravity separation and equipments
The gravity separation separates ore parts with different density. Gravity separation is also one of the most popular ore beneficiation methods. It is widely used in weight metal ore beneficiation, especially weak magnetic iron ore.

Magnetization-magnetic separation process and equipments

Magnetization is a chemical reaction used in hematite beneficiation. It transforms Fe2O3 (weak magnetic) into Fe3O4 (strong magnetic). After magnetization, we can use magnetic separation.

Hematite, limonite, siderite and iron pyrites is very weak magnetic. We cannot use normal magnetic separation to beneficiate. We have to magnetize them first. And then, we can use normal magnetic separation.

Magnetization is a rather complicated process. There are many factors that can affect the effect of the reaction. Actually, calcinations can either reduce the iron ore or oxidize the iron ore.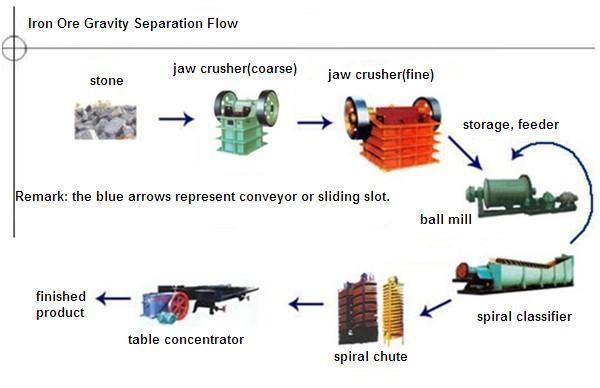 Hot-mining services:
Ore laboratory test Ore beneficiation test Flowchart designing and layout designing.Full set of machines Erecting and commissioning Training Technical consolation.



1. Project engineering design

2.Equipment manufacture and supply

3. Package and delivery

4. Installation

5. Commissioning

6. Personnel training
Please kindly tell us your mine processing capacity (tons per day) and your ore properties, we will design the most efficient plant for you.
Contact us:
| | | | |
| --- | --- | --- | --- |
| | Serena Fu | Kira Zhang | Teresa Zheng |
| E-mail | serena.fu@hot-mining.com | kira.zhang@hot-mining.com | teresa.zheng@hot-mining.com |
| Skype | Serena20140924 | kira.zhangjing | teresa.zheng123 |
Please feel free to give your inquiry in the form below.We will reply you in 24 hours.