Case Studies
Hot Product
Contact Us
Project Design of Gold Refinery Plant (Gold-loaded Carbon Treatment)
1.Smelting Process
Adopting exclusive production technology which is proved to be effective by Zijin Mining Group: gold-loaded carbon non cyanide electrodeposition of high temperature and high pressure, coarse gold slime pyro-hydro purifying method, degold carbon pickling-pyrogenic combined regenerative method. There are four production systems according to the above-mentioned process: analytical electrodeposition, refining, regeneration of activated carbon and waste-water treatment. Deal with the waste gas (acid mist) and waste-water.
2.Smelting Process Flow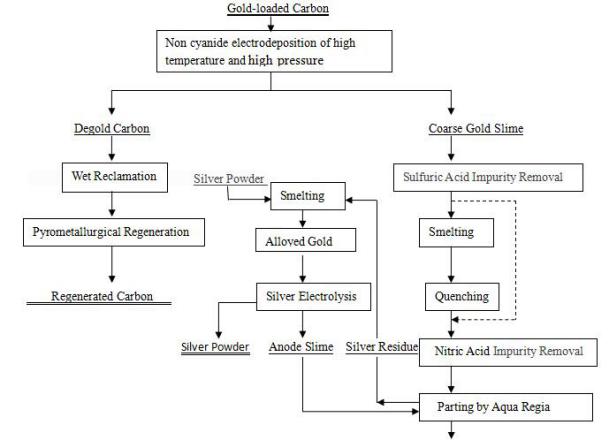 3.
Selection of Technical Indicators
Gold content of gold-loaded carbon of this plant is 1.5g/kg which is expected to reach more than 2 g/kg. Design indicator is 1.5 g/kg, specific indicators are as follows:
Annual capacity: 3704t Gold bullion: 4999.9kg/a

Gold content of gold bullion: 99.99% Gold bullion recovery rate: ≥99.12%

Gold content of gold-loaded carbon: 1.5kg/t

Gold content of degold carbon: 0.15kg/t

Desorption Rate: 90% Purification refining efficiency: 98%

Regeneration carbon productivity: 92%

Recovery rate of regeneration carbon powder: 85%
4.
Selection of Main Equipment
4.1 Desorption Electrodeposition System
Main equipment: gold-loaded carbon storage tank, gold-loaded carbon metering tank, pressure tank, air compressor, carbon pool, centrifugal pump, elution column, electric heater, vertical electro-deposition cells, external storage fluid tank, centrifugal oil pump, corrosion and abrasion resistant mortar pump, epoxy glass water jet vacuum pump, rectifier, waste stripping liquid settling basin, electrolytic distribution screen, power distribution cabinet, transformer.
4.2 Purification Refining System
Purification refining system is made of sulfuric acid impurity removal, kerosene pyrogenic process smelter, chloridizing parting, 4 K-500L reaction still of hydrazine hydrate reduction, extraction refining system, electric steam boiler of 45kW, electric heater of 180kW, silver electrolysis gold and silver recovery system and tanks, pumps for various purposes. There is also one ingot intermediate frequency furnace of 30kW.
4.3 Carbon Regeneration System
The required quantity of pickling carbon is 19~20t/d, each Φ1800×1800 pickling bath can handle dry carbon 2.5t/d, each vibrating screen can handle carbon 10 t/d. So we need 12 sets pickling bath of Φ1800× 1800, 3 sets vibrating screen, 1 set carbon transportation equipment and 1 set regenerative rotary kiln with capacity of 6t/d.
4.4 Environmental Protection System
There will be about 8m³waste water per day in the purification process, after 10 hours' activated carbon cyclic adsorption, it is required a purification waste water pool of 30m³. There will be about 6m³waste water per day in electrolysis process while 320m³ in the pickling process, in consideration of more waste water in the later treatment process, we need two waste water pools of 150m³ and 1 backwater pool of 400m³.
Agent agitated tank: 2
Filter press: 2
Acid-resistant ceramic pump: HTB-ZK5.0/30
Activated carbon adsorption system: 2 sets
4.5 Main agents: NaOH, HCI, HNO3, hydrazine hydrate, industrial sulphuric acid.
Contact us:
| | | |
| --- | --- | --- |
| | Serena Fu | Kira Zhang |
| E-mail | serena.fu@hot-mining.com | kira.zhang@hot-mining.com |
| Skype | Serena20140924 | kira.zhangjing |
Please feel free to give your inquiry in the form below.We will reply you in 24 hours.